NEW PART BULLETIN: INTRODUCING THE BIMETALLIC FRICTION DISC



The design of the friction discs for the Mitsubishi bulldozers and track loaders has gone through changes over the decades. We just made another change to reduce bonding, and increase reliability, strength, and longevity of your steering clutch. This improvement also increased the coefficient of friction for the steering clutches by 3%.
The earlier BD2C, BD2D, BD2E, and BD2F (ALSO BS3 LOADER SERIES) had steering clutch friction discs with riveted on linings, then bonded linings and they were then replaced by the fiber discs which we now produce. Beginning with the BD2G/BS3G models and carried on through the BD2H/BS3H AND BD2J/BS3J models the friction discs were all fiber. These discs all interchanged with the earlier models.
Six (6) friction discs 58831-24600 or 55331-03200 (Early fiber disc p/n was 58131-12500) are used per clutch and Six (6) of the steel separator plates 58131-12600 or 58131-12602 are also used when replacing all discs. These quantities remain the same when upgrading to the bimetallic friction discs.

Unless you regularly work your Mitsubishi dozer or loader and get the steering clutches warmed up, moisture will accumulate in the clutch compartments and the friction discs will begin to bond to the steel plates.....PERIOD! If you try to wash out the clutches to free them up you are looking for trouble. The fibers will absorb the solvent, swell, and create a stack height that can not be released. This also weakens the teeth on the fiber friction discs resulting in the self destruction of the discs.

If you had the early style, steel toothed friction discs, with riveted on linings the clutch discs would still seize. If you have the all-fiber discs they also bonded to each other and seized up the clutch, resulting in broken teeth that ball up inside the brake drum.

The new bimetallic friction discs will not absorb moisture. The new discs will create a clutch pack where, if some sticking does occur, the bond is weak and can often free up by themselves. The new bimetallic friction discs will also allow you to wash out your clutches without disc damage or weakening the discs.

Nothing will solve poor maintenance or neglect but this style of clutch will go far in keeping your clutches from self destruction, broken teeth, and you from continually fighting frozen and seized clutches. You should still continue to work your machine on a regular basis but this clutch will be more forgiving to your lapses. Time can go by pretty fast and you suddenly realize the machine has sat idle for months.

We are not new to this. We have also made these same changes to the steering clutches in Allis Chalmers HD3, HD4, and 650 series of crawler dozers and loaders. Besides Allis Chalmers, the improvements made to the clutch packs of the Massey 200, 200B, 154, 244 and 2244 crawlers now using bimetallic friction discs has become the standard and used world wide.

If you have ever repaired your Mitsubishi steering clutches, or paid to have them repaired, you can already imagine the advantages and value that these newer discs will provide. Upgrading your steering clutches will more than pay for itself with increased reliability, longevity, and strength.

CLICK HERE TO ORDER YOUR NEW STEERING CLUTCH PARTS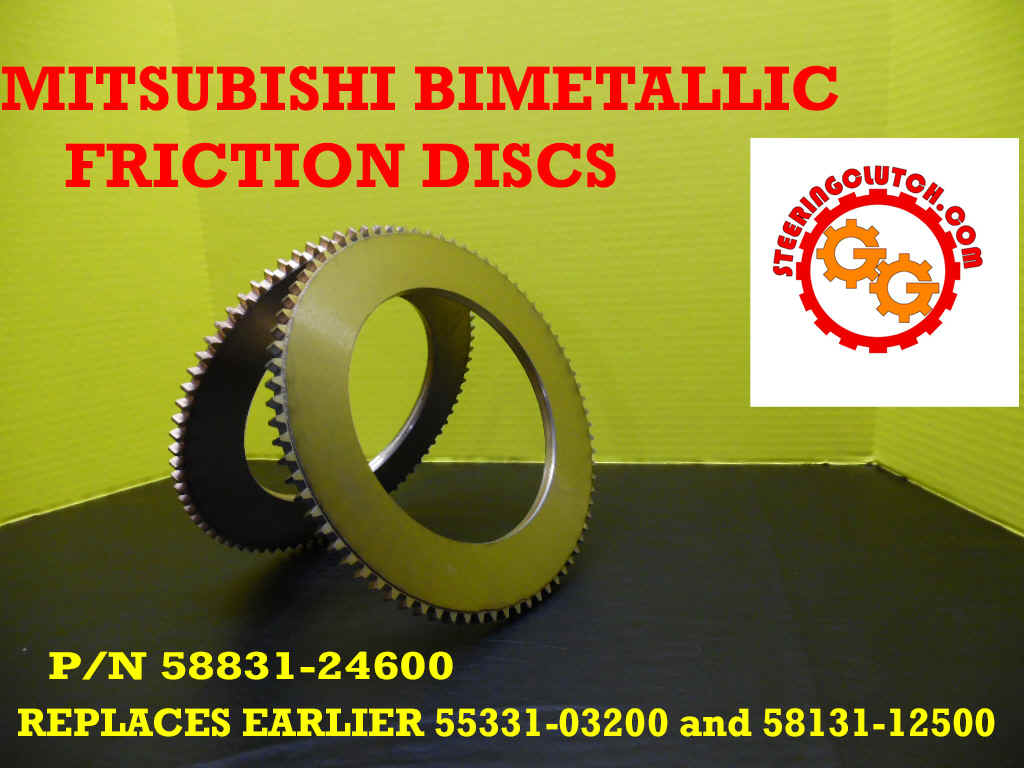 CLICK HERE FOR TABLE OF ALL OF OUR STEERING CLUTCH AND TRANSMISSION DISCS