Haga clic aqui para Espanol
We have been producing and selling steering clutch fiber discs and steel separator plates for the BD2 series of crawlers since 2005. We are also providing many new components for your Mitsubishi crawlerdozers and loaders. The earlier BD2C, BD2D, BD2E, and BD2F (ALSO BS3 SERIES) had steering clutch friction discs with riveted on linings, then bonded linings and were then replaced by the fiber discs which we now produce. The same fiber and steel discs fit all the above series including the Mitsubishi crawler loader versions which were designated by the "BS3" model number prefix.
The BD2G's were made from 1987-1994 and followed by the BD2H and BD2J series. At the bottom of this page you will find some early serial number guides for the dozer and loader series.
Six (6) discs each of the fiber 58831-24600 or 55331-03200 (Early fiber disc p/n was 58131-12500) are used per clutch and Six (6) of the steel separator plates 58131-12600 or 58131-12602 are also used when replacing all discs.
Depending on the condition of your clutches, you can often get by with only replacing the fiber discs. Use your best judgment for evaluating your steel plates. You do not want to install plates that are rough and would accelerate the wear on your new fiber discs. Clean them with wire brushes, sandblasting, or whatever it takes to get them as smooth as possible and then make your decision. These steering clutches are not that much fun to have to remove and reinstall in order to save a hundred dollar bill.
THANK YOU!!!! After many years of providing these discs, with higher and higher volumes, we have been able to cut our costs and have now been able to actually reduce the costs to our customers by 30%. In this day if creeping inflation and devaluation of the dollar, that is a pretty good trick! We thank you for your continued business and support. It is you, our customers, that has allowed us to make this price reduction. (The old prices were 31.00 for the fibers, and 24.00 for the steels)
Scroll all the way to bottom to see the Bottom Rollers, Tracks, Carrier Rollers, Front Idlers, and Track Pads available for your track frames.

In US only, via Priority Mail, 2-3 day delivery, on orders $500 or higher.
ORDERING INFO:

We can usually ship on the same day any items we have in stock that do not have to be pulled from a machine.
We are set up to offer the payment options of all major cardds Discover, AmEx, Visa, MC, or the PayPal option (to the account of webmaster@tractorparts.com)
All items below ON HAND AND IN STOCK and if you would like to get any of them on the way just let us know! If you are in the US you may call 1-800-531-9021 or if you are outside the US, 1 208 342 8911. You may also email steeringclutch@gmail.com for orders/questions. We have shipped these items all over the world and try to use Priority Mail when possible.
Our hours are Monday through Friday from 10 am Eastern Time to 6 pm Eastern Time (8 am Mtn Time to 4 pm Mtn Time). We are located 20 miles east of Boise, Idaho.
FIBER DISCS p/n 58831-24600 or 55331-03200 (early p/n 58131-12500) (77 external teeth) (6) required per clutch at $22.00 each
STEEL PLATES p/n 58131-12600 or 58131-12602 (48 Internal teeth) (6) required per clutch at $17.00 ea


BD2 SERIES BRAKE DRUM
BRAKE DRUM p/n 58131-02400 $185.00 ea


NEW..........COMPLETE BRAKE BAND ASSEMBLIES 58856-10040 (REPLACES EARLIER BANDS FOR BD2F) 155.00 EA (NEW BANDS WITH NEW LININGS) Model C D and E brake bands are different. You will need to reline and repair those.

STEERING CLUTCH BRAKE ADJUSTING CLEVIS AND NUT....$45.00 EA or $70.00 for Pair (One Each)


NEW ...........STEERING CLUTCH INNER DRIVING DRUMS 55331-00200 $187.00
STEERING CLUTCH PRESSURE PLATE 55331-00700 NEW $80.00 ea

STEERING CLUTCH ENGAGING SHIFTERS AND FLANGES.....If you have broken a shifting release collar or need to replace the splined steering clutch flange, we can fix you up.


NEW ....... STEERING CLUTCH FLANGE 55331-00300 $182.00



STEERING CLUTCH THROW-OUT BEARING......P/N 05641-04900........NEW $38.00


NEW....... STEERING CLUTCH RELEASE SHIFTER 55331-00900 $94.00


NEW....... STEERING CLUTCH PRESSURE SPRINGS 55331-01800 SET OF 8 for $35.00


ON HAND AND IN STOCK MITSUBISHI TRACK LINKS...38 SECTIONS PER SIDE... (WEIGHS 293 LBS PER SIDE)
(2) SIDES $1310.00 (1) SIDE $725.00 (4 mounting bolts/nuts @ $5.00 per section)
SHIPPING FOR 2 SIDES OF LINKS WILL NOT EXCEED $250.00 USD IF YOU ARE IN THE LOWER 48 STATES.
(Must ship to a business and not to a residence, farm, or ranch)
Some extreme remote areas might have a carrier surcharge or requesting lift gate service is also extra.

ON HAND AND IN STOCK MITSUBISHI TRACK PADS...STANDARD PADS 300mm/11.8 inch
$28.00 ea (4 mounting bolts/nuts @ $5.00 per pad) WEIGHT 6.6 LBS PER PAD


ON HAND AND IN STOCK MITSUBISHI TRACK PADS...MUD/SNOW PADS 300mm/11.8 inch
$28.00 ea (4 mounting bolts/nuts @ $5.00 per pad) WEIGHT 6.6 LBS PER PAD



ON HAND AND IN STOCK WE HAVE 35 GOOD USED PYRAMID/SWAMP PADS FOR THE BD2'S @ $30.00 EA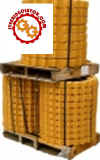 ON HAND AND IN STOCK MITSUBISHI TRACK WELD-ON SPROCKET RIMS 25 TOOTH AND 27 TOOTH OPTIONS
$115.00 EA 33 LBS EACH

ON HAND AND IN STOCK...... MITSUBISHI CARRIER ROLLERS, 28.6 LBS EA
COMPLETE AS SHOWN FOR BD2F AND BD2G $105.00 ea

FRONT IDLERS FOR THE BD2F-BD2G-BD2H-BD2J........COMPLETE WITH GUIDES $465.00 EA
ON HAND AND IN STOCK...... 172 LBS EA

BD2D AND BD2E BOTTOM ROLLERS......DELIVERED IN THE US VIA PRIORITY MAIL $113.45 EA (Includes shipping in the US)
ON HAND AND IN STOCK

BD2F BD2G BD2H BD2J BOTTOM ROLLERS......DELIVERED IN THE US VIA PRIORITY MAIL $113.45 EA (Includes shipping in the US)
ON HAND AND IN STOCK
SERVICE AND PARTS INFO
BD2G STEERING CLUTCH PARTS PAGES
BD2G FINAL DRIVE PARTS PAGES

BD2F BS3F STEERING CLUTCH PARTS
BD2F BS3F STEERING CLUTCH OPERATIONS
BD2F BS3F STEERING CLUTCH TROUBLESHOOTING
BD2F BS3F STEERING CLUTCH SERVICE
BD2D BS3D BD2E BS3E BRAKE PARTS
BD2D BS3D BD2E BS3E STEERING CLUTCH CONTROLS PARTS
BD2D BS3D BD2E BS3E STEERING CLUTCH AND FINAL DRIVE PARTS
BD2D BS3D BD2E BS3E SPECIFICATIONS FOR STEERING CUTCH, BRAKES, FINAL DRIVES
BD2D BS3D BD2E BS3E STEERING CLUTCH SERVICE

SERIAL NUMBERS FOR BD2D/BD2E/BD2F SERIES DOZERS AND BS3D/BS3E/BS3F LOADERS